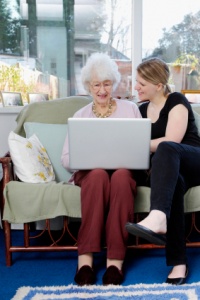 'What are we going to do about Mom and Dad?'  is a question families are asking all over Canada.  Some people asking that question are seniors themselves, or are raising children or grandchildren at home. Many people asking are working full time and are sandwiched between the younger and older generations. There simply aren't always enough hours in the day to do everything that needs to be done.
In other cases, seniors are getting older and perhaps one of them is disabled due to a stroke or Parkinson's disease. One partner is getting tired and burnt out with caring for their spouse while trying to manage their own health. Family lives far away and there isn't anyone to call on when something needs to be done.
An in-home caregiver can help!
Caregivers will:
follow the seniors' morning and evening routine
cook favourite recipes and follow prescribed diets
track medications and appointments
provide companionship and assistance on outings and appointments
assist with shopping, housekeeping, laundry
be on hand in case of emergency
Supervise and assist with medication and monitor health issues.
Many seniors have retired to Vancouver Island and their families live in White Rock or Calgary or Ontario.  They want to know that their parents are being well looked after when they can't be here to support them.  An in-home caregiver is the solution!
Caregivers can maintain daily communication with family members who live far away. Instead of worrying how mom and dad are doing, their caregiver can help seniors with their computers and keep them connected with the family using Skype or Facebook. You could come home after work and have a quick chat with Mom and Dad on the computer, or the grandkids can tell them how their day at school went.  Instead of worrying at night about whether they are okay you will know that if anything happens you will be called immediately.  What a relief!