Our Story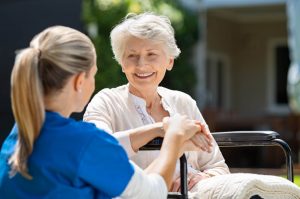 Pacific Caregivers began after a very difficult search for affordable home care for our founder's own parents. In her own words…
Our mother had suffered a stroke and was adamant that she didn't want to stay in the hospital or a nursing home. Mom needed 24-hour care but she also wanted to be at home with dad! So, we moved them in with us – into a suite in our home. It was scary bringing her home, not knowing if we could provide the level of care she would need; but she insisted. She was very unhappy in the hospital and we wanted to honour her wishes and so we went ahead and brought her home.
We tried various homecare solutions, but none of them seemed to work well for all of us. Dad did his best to help and the family pitched in but we needed a long term solution.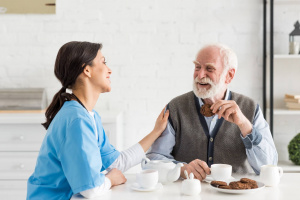 Eventually we found out about the Live-in Caregiver Program run by Citizenship and Immigration Canada. This program allows trained caregivers from other countries to come to Canada and work as live-in caregivers for children, the disabled and seniors. They must work for two years as a live-in caregiver and then they can apply for landed immigrant status. Once that is approved they can then go on to work at other occupations.
After some initial resistance on my parents' part we decided to go ahead. My mom wanted me to take care of her but that just was not possible: we still had children at home and she needed more care than we were capable of providing.  My dad was worried about how to pay for all of this, but with the help of some government programs we were able to make it work.
We hired a wonderful caregiver who moved in with us and became our parents' primary caregiver. After seeing how well this worked, we hired a second caregiver to share the job and my parents and caregivers moved back to their own home!
For 4 years, our parents were able to live in their own home, maintain their lifestyle and stay together, thanks to their dedicated caregivers.
After dad passed away at home, we moved mom and her care givers back into our house. Mom didn't sleep much so she needed another caregiver to be with her at night. We ended up with three caregivers taking care of her, 24 hours a day until she passed away.
For a few years our elderly aunt lived with us and had 2 caregivers of her own. She passed away peacefully in her bed at 97 years old with her family around her.  How blessed we were to have these wonderful young men and women help us keep our family members at home with their loved ones, instead of living in a facility.
Eventually other people asked us how they could find a live in caregiver for their loved ones. Pacific Caregivers opened its doors in response to this need. We match trained, experienced caregivers with families who need help caring for their loved ones. Caregivers are fluent in English and some have nursing or other medical degrees from their home country. All are trained and experienced in caring for the elderly, disabled or children.